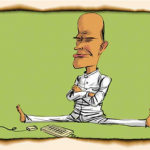 If you want to master Poker SEO, I strongly suggest you read Randy Ray's Poker SEO blog. Randy Ray is a veteran successful poker affiliate.
Prior to starting his newest blog, he had a short sting as the Administrator of the Poker Affiliate Programs forums. While he retired after only a couple of months at PAP, his reign was marked by some of the best forum posts and blog posts you'll ever find on poker affiliating. I suggest to anyone in the poker affiliating business to go read each one of his post – More importantly, I strongly suggest putting into practice everything he teaches.
Randy is a great example of doing what you preach. It's quite evident that Randy puts a lot of importance in writing content, in writing good content. I know he does, from having translated some of his affiliate sites; and he puts out amazing content on his blog too. Go read 20 Poker SEO Questions – 20 Poker SEO Answers for example. Go now.