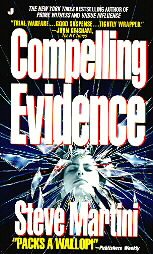 Compelling Evidence is the second Steve Martini book I've read – the first one was The Judge. I have this tendency of reading two random books of an author before deciding whether I'll read his entire collection or not. In Martini's case, I'll be reading more.
Compelling Evidence is the second book that Martini wrote (The Judge was his fifth), and the first featuring lawyer Paul Madriani, who's the first person narrator and main character of the book.
This book is really for people who enjoy courtroom thrillers. Martini takes a good quarter of the book setting up the trial, all the while giving us a better idea of who Madriani is and what motivates him. The meat of book though is indeed the trial. It was realistic, in a manner of speech, as in you're not that surprised by the sentence that is rendered. Based on the evidence presented, it makes sense.
In the end though, it's a classic whodunit, which I kind of figured out early in the book, but which was still well hidden, while believable based on the clues you can pick up throughout the book. Shame though is the way it is revealed, felt hurried.
Overall, it's a good legal thriller, which I like more than The Judge, but perhaps because some of the characters in The Judge had already been introduced and developed in prior books. Whenever an author creates a series, it's always a good idea to read them in sequence (note to self!). That said, if you're not into technical courtroom battle, this one might be a little slow paced for you.
Recurring Martini characters in Compelling Evidence (there might be more, I'll update after reading the others!):
Paul Madriani
Harry Hinds
Nikki Madriani
Sarah Madriani
Judge Armando Acosta, "The Coconut"
D.A. Duane Nelson
Buy Steve Martini's Compelling Evidence