Since I was participating in the Tyler Cruz Challenge (in which I took 2nd place), I figured I'd try my hand at another network and in another contest. As such, I participated in Paul's Inspired Affiliate Marketing Challenge 3 and scored first place.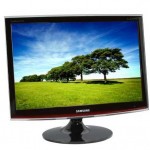 Paul ran his contest on Amped Media. My numbers weren't quite as big as what I did with XY7 – they have a lot of those email submits offers, and I have/had no idea how to push these. I gave a push with a high commission offer in the beginning. I think I generated 90% of the 30 day period commission for the contest in the first week. The ROI for the campaign wasn't great, positive sure, but not great, so I didn't push it much after that. Nonetheless, the commission I generated was enough to secure first place in both categories. Sick!
This won me another Samsung monitor, 22-inch this time, which I'll probably give to my parents – they need something to replace that big box they call a monitor. I also won the 640 GB external USB 2.0 hard drive, which should be handy.
While I'm not posting big numbers (yet) with Affiliate Marketing, I'm pretty happy that I've been able to turn a profit at two different networks so fast, and win some cool prizes doing it.